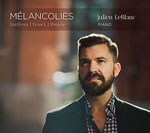 Mélancolies. Julien Leblanc.
Franck. Poulenc. Dutilleux.
Leaf Music. 2015. LM209. 76 min 28 s.


The Acadian pianist presents three French composers who seem to hold a particular appeal for him. Leblanc takes a heartfelt approach to the highly austere, funerally sober César Franck and the boldly modern Henri Dutilleux as he performs these often heavy pieces. He handles every twist and turn with brio, his phrasing is analytical, and his brilliant technique puts him in a class of his own.
But one is especially drawn to Poulenc. The Improvisations are short, gutsy pieces, varied, delightful and sensuous, a century apart from Schubert, Chopin, and Schumann. What Poulenc has done is drawn material from the past and forged it anew. And how refreshing that is to our ears saturated in the nineteenth-century Romantic tradition that dominated piano music for so long.
Poulenc's music is elegant, with an air of Paris, of its smoky bars, its people who love a good discussion; it is new in the sense that it is very like us. Like those ghosts of the past, we too like our spells of melancholy, but we also like burlesque, laughter and an amusing anecdote. Julien Leblanc serves up all of this. His interpretation is always true, played with care, and packed with warmth. Perfect piano music and perfect for lovers of Poulenc. RFA